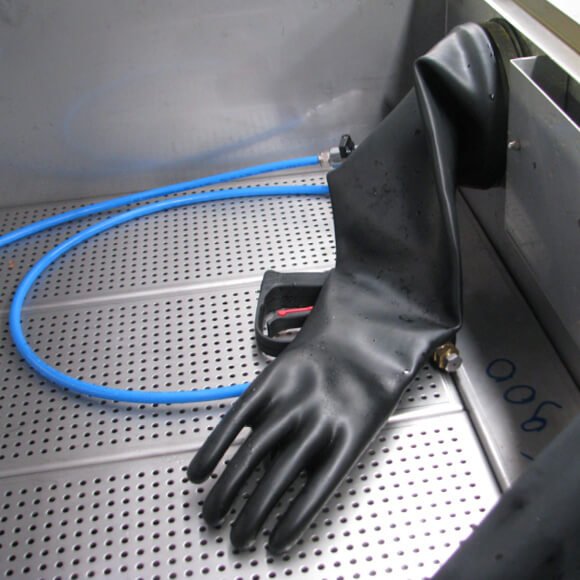 JETMATIC 900 series E-P
Manual washer with grid platform and spray gun for small pieces and devices.
E series electric, P series pneumatic.
Parts washer entirely made of aisi 304 stainless steel, suitable for cleaning and manual washing of small metal parts.
The powerful lance allows to remove the incrustations even in the narrowest and most difficult points where a common washing would not be enough.
P series machine equipped with:
Very thick transparent PVC cover with manual flap opening, equipped with compressed air blade to remove water and condensation in order to guarantee perfect visibility of the objects during all the washing phases;
Spray gun for washing, compressed air gun for drying;
Rubber gloves;
Diaphragm pneumatic pump.
E series machine with equipment of the P series, and also:
Pump and electric panel
Heating of the washing solution up to 50 C
Electric fan for steam extraction (optional)
Technical data (electric)
Dimensions: 1150 x 800 h 1470
Payload: 50 kg
Washing pump: 15 lt/min
Working pressure: 6 bar
Heat: heaters 3 Kw
Temperature: 50 °C
Filter: 1 in stainless steel
Washing chamber: 840×600, h utile 480-310
Alarm: low level/ filter clogged
Tank: 50 lt
Technical data (pneumatic)
Dimensions: 1150 x 800 h 1470
Payload: 50 kg
Washing pump: Pneumatic 18 l/min
Working pressure: 6 bar
Heat: absent
Temperature: room temperature
Filter: 1 in stainless steel
Washing chamber: 840×600, h utile 480-310
Alarm: absent
Tank: 50 lt