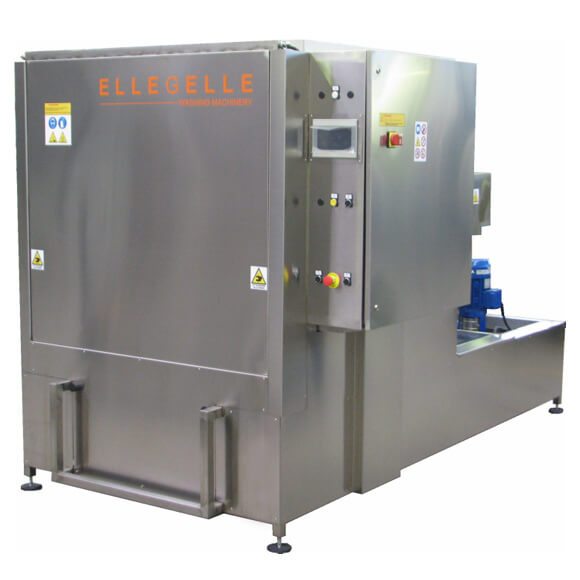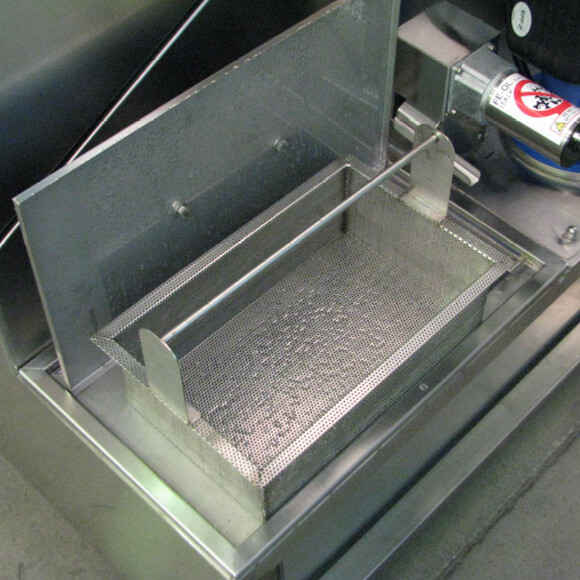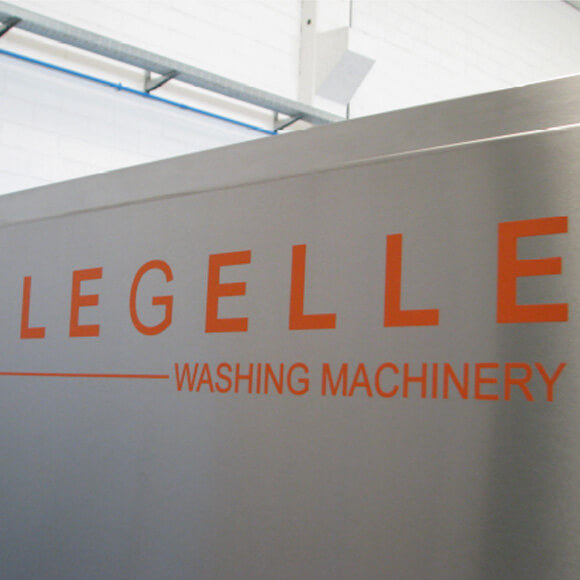 GE 1200-2X GE 1500-2X
Spray washer, double tank for washing and rinsing with removable rotating basket on stand or external trolley.
Opening with pneumatic pistons, suitable for very heavy and bulky parts.
Industrial automatic double-tank spray washer, with motorized rotating basket, entirely made of stainless steel with tubular bearing structure.
Washing is carried out with a solution of water and a biodegradable detergent by crossing a spray ramp fed by a vertical pump with stainless steel aisi 304/316 jacket, shaft, diffuser and impeller, maintenance-free pump. The washing temperature reaches 80°C with minimum energy expenditure thanks to the complete insulation paneling and it is a guarantee of an excellent result in washing even dry grease with considerable resistance. This temperature also facilitates rapid drying of the piece. The solution is collected in the tank and re-used until its complete exhaustion.
Rinsing occurs in the same way as with the washing machine but with a separate tank, pump and piping. The machine is equipped with an exchange system suitable for keeping the washing water separate from the rinsing water.
Loading operations take place in front of the machine by opening the door with pneumatic pistons and bi-manual push-button panel
Technical data GE 1200 2x
Dimensions: L2500 x P1700 h 2100
Loading basket: Diameter 1200 mm H utile 850 mm
Load max: 600 kg
Washing/Rinse pump: 4 Kw, 350 l/min.+4kw 350lt/min
Pressure: 4 bar
Tank: 300 l + 300 l
Heat: 4+4 heaters 4 Kw each
Temperature: adjustable 0-80°C
Alarm: Low level/ filter clogged
Technical data GE 1500 2x
Dimensions: L2900 x P2200 H 2100
Loading basket: D 1500 h utile 850
Load max: 1200 Kg
Washing/Rinse pump: 5,5 400 l/min + 5,5 400 lt/min
Pressure: 3,5 bar
Tank: 500 l + 500 l
Heat: 5+5 heaters 4 Kw each
Temperature: adjustable 0-80°C
Alarm: Low level/ filter clogged
Optional
Manual extraction of basket on exterior trolleys
Automatic basket extraction on support
Drying with hot air oven
Emptying diaphragm pump
Oil skimmer
100 to 5 micron ultrafiltration
Automatic water/cleaning loading product