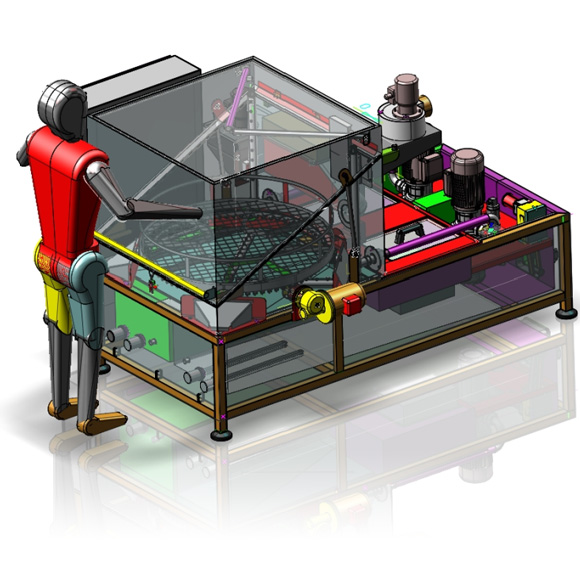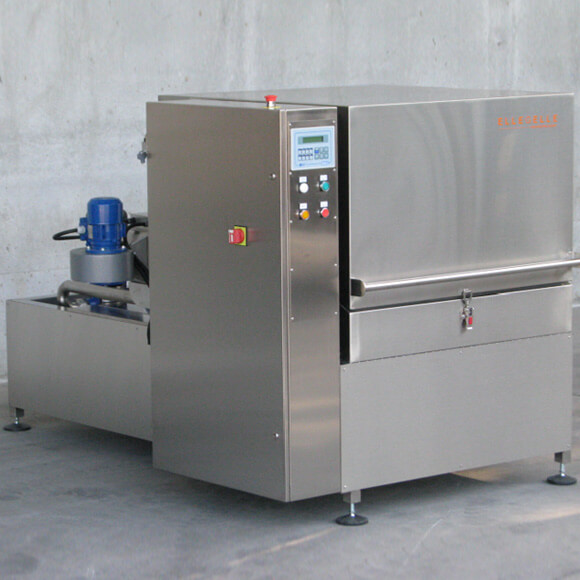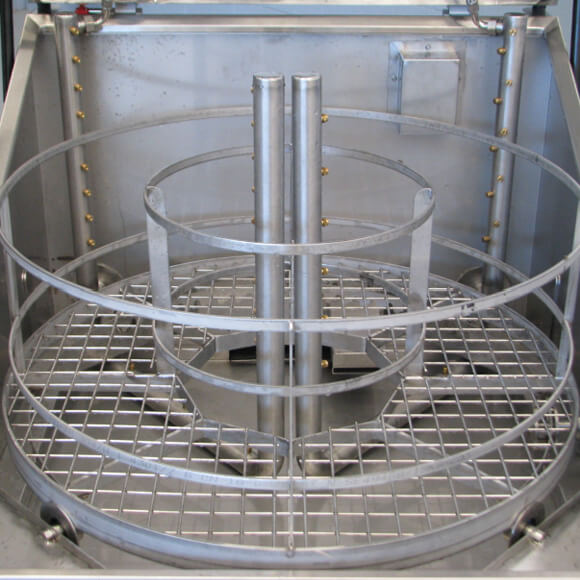 CR 900 2X – CR 1200 2X
Automatic spray washer, with double tank for washing and rinsing and motorized rotating basket.
Suitable for medium-sized heavy parts.
Automatic industrial spray washing machine, double tank, with motorized rotating basket, entirely made of Aisi 304 stainless steel with supporting structure in steel tubulars.
Washing is carried out with a solution of water and detergent at a temperature adjustable from 0 ° to 60 ° by crossing a spray ramp arranged above, below and on the side of the basket. The filtered washing solution is collected in the tank and reused until it is completely exhausted.
The rinsing / passivation phase takes place with the pump, the spray ramp and the separate water recovery tank. The machine is equipped with 2 basket filters externally positioned, both on the washing and rinsing areas, in order to facilitate maintenance and cleaning operations. Loading operations take place in front of the machine by manually opening the tailgate, assisted opening by 2 gas springs. The machine is equipped as standard with a PLC touch screen with programmable functions: time and temperature for washing, rinsing and drying. Level alarms and clogged filters, energy saving ON / OFF function, timer for programmed switching on washing and rinsing heaters.
Technical data CR 900 2x
Dimensions: 1390 x 2200 H1370
Basket: diameter 900 mm, H 550 mm
Payload: 400 kg
Washing pump: 1,5 Kw, 110 l/min
Rinsing pump: 1,5 Kw, 110 l/min
Pressure: 4 bar
Washing tank: 130 l
Rinsing tank: 130 l
Washing heat: 2 heaters de 4 kw each
Rinsing heat: 2 heaters de 4 kw each
Temperature: adjustable de 0° à 60° ( 80°C insulated )
Motorized rotation: 5 g/min
Alarm: Low level / filter clogged
Technical data CR 1200 2x
Dimensions: 760x 2700 H 1420
Basket: diameter 1200 mm, H 630 mm
Payload: 600 kg
Washing pump: 2,2 Kw, 200 l/min
Rinsing pump: 2,2 kw, 200 l/min
Pressure: 4 bar
Washing tank: 220 l
Rinsing tank: 220 l
Washing heat: 3 heaters 4 Kw each (12 kw)
Rinsing heat: 3 heaters 4 Kw each (12 kw)
Temperature: adjustable da 0° a 60° (80°C coibentata)
Motorized rotation: 5 tr/min
Alarm: Low level / filter clogged
Optional
Oil skimmer
Drying with hot air oven
Ultrafilter from 100 up to 5 microns
Electric fan for steam extraction
Insulation for 80 ° C temperature
Emptying diaphragm pump
Basket extraction on external carts
Reduction baskets
Automatic opening with pneumatic pistons