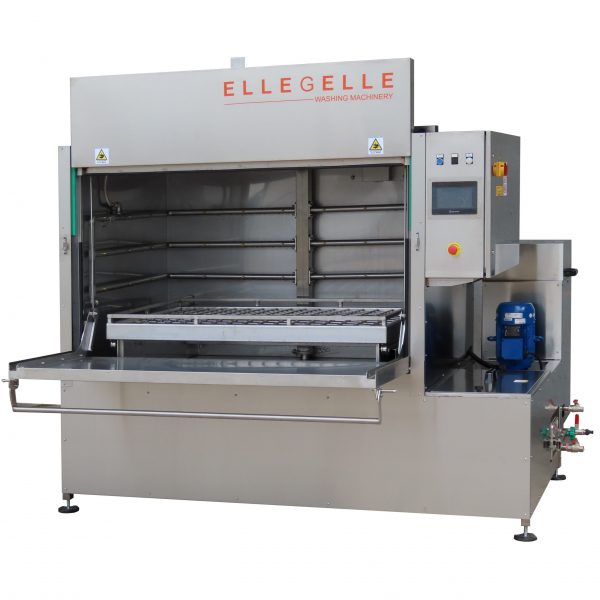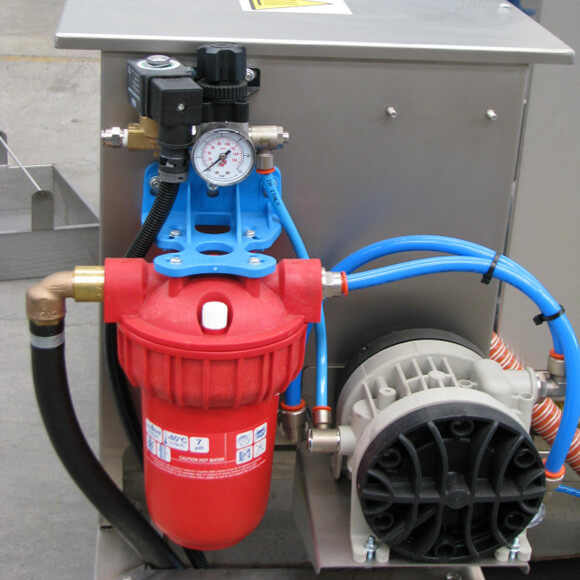 ASF 1350 – 1700
Single stage automatic spray washer with cantilever removable table.
Steady table with adjustable nozzles in position for a dedicated washing in the points of greatest need.
Single-stage automatic machine, with bearing structure in stainless steel tubulars, equipped with a sturdy full-extension cantilevered basket mounted on stainless steel guides to facilitate loading and unloading operations via winch or bridge crane. The basket, which stays in position during the whole washing phase, can be equipped with lances suitable for the washing of the item in order to guarantee a complete cleaning of the object even in the holes, cavities or undercuts.
The basket extraction takes place above the opening door (the basket does not lean on the door), which also takes on the function of collecting drips. Washing is carried out sprying under pressure a solution of water and detergent by means of a vertical pump immersed in aisi 304/316 stainless steel external jacket, shaft, diffuser and impeller. A series of sprayers arranged in a ring on the entire chamber, above and below the loading surface, evenly distribute the solution. The filtered water is then collected in the loading tank and reused until it is completely exhausted. The washing temperature reaches 80 ° C with minimum energy expenditure thanks to the complete insulation paneling and it is a guarantee of an excellent result in washing even dry grease with considerable resistance.
This temperature also facilitates rapid drying of the piece.
The basket filter, in stainless steel, is positioned externally for easy
cleaning and maintenance and it is fitted with a clogged filter alarm.
The washing machine is complete with electric fan and condensate
chamber for steam extraction.
Technical data ASF 1350
Dimensions: 2350 x 1700 h 2000
Useful dim. basket: 1360 x 860 h 730
Cantilever: 350 kg
Washing pump: 4Kw, 300 l/min.
Pressure: 4 bar
Tank: 300 l
Heaters: 4 heaters 4 Kw each
Temperature: adjustable 0-80°C
Alarm: Low level/ filter clogged
Technical data ASF 1700
Dimensions: 2700 x 1730 h 2000
Useful dim. basket: 1720 x 860 h 730
Cantilever: 400 kg
Washing pump: 4Kw, 350 l/min.
Pressure: 3,5 bar
Tank: 420 l
Heaters: 5 heaters 4 Kw each
Temperature: adjustable 0-80°C
Alarm: Low level/ filter clogged
Optional
Coalescence oil separator
Drying with hot air oven
Ultrafilter from 100 up to 5 microns
Emptying diaphragm pump
Automatic water / detergent load